Limited
Includes BRZ Premium key features and adds:
Performance Package with Brembo® brakes and SACHS® shock absorbers available
SUBARU STARLINK™ Multimedia Navigation with standard Apple CarPlay™ and Android™ Auto integration
Alcantara®/leather-trimmed upholstery
Keyless Access with Push-Button Start
Automatic climate control system
Available 6-speed automatic transmission
Sport-Tuned Suspension
The BRZ is designed to perform like a sports car should, with independent MacPherson struts in the front and an independent double wishbone suspension in the back.
Standard On: All models
Low Center of Gravity
The SUBARU BOXER® engine's unique horizontal design allows it to be mounted low and rearward for better balance and an extremely low center of gravity that improves handling.
Standard On: All models
Quick-Ratio Steering and
Limited-Slip Differential
An ultra-quick 13.1:1 steering ratio provides instantaneous response to driver input and an outstanding feel for the road. And the Torsen® limited-slip differential provides both improved grip and predictable behavior, even when pushed to the limit.
Standard On: All models
Performance Package
The Performance Package will turn your BRZ into a hard-nosed competitor with Brembo® performance brakes for supreme stopping power, SACHS® performance dampers for superior handling and gray 17 x 7.5-inch 10-spoke alloy wheels for an exclusive look.
Performance Package
Brembo Performance Brakes
Serious drivers know the importance of powerful brakes that can withstand the rigors of performance driving. Brembo performance brakes give the lightweight BRZ supreme stopping power, lap after lap.
Performance Package
SACHS Performance Dampers
For a pure sports car like the BRZ, suspension is everything. SACHS performance dampers give the BRZ more responsive handling, better ride quality, and more stability.
Performance Package
Exclusive Wheels
The 17 x 7.5-inch, 10-spoke alloy wheels are a perfect complement to the timeless looks and unforgettable performance of the BRZ.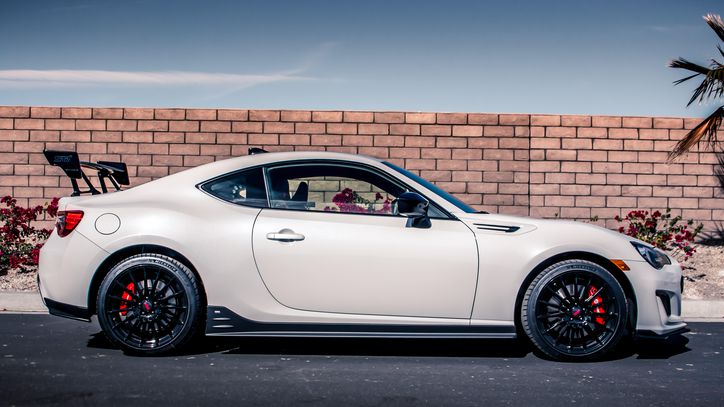 Thrilling Driving Feel
Everything about the BRZ is engineered for driving fun. Its low 2,789-pound base curb weight enhances reflexes and sharpens handling for an overall improved performance. That philosophy extends right down to the brake pedal, which has a firm, progressive feel for confident control on every corner. And like all the pedals on the BRZ, it features a motorsport-style drilled metal design.
Standard On: All models
Automatic Transmission with Paddle Shifters
The BRZ Limited offers a 6-speed automatic transmission with paddle shifters, combining the convenience of an automatic with the thrill of race-style gear shifting[3].
Available On: Limited
6-Speed Manual Transmission
The BRZ features a standard 6-speed fully synchronized close-ratio manual transmission with a short-throw shifter for precise control of gear selection.
Standard On: All models
Multi-Function Display with Vehicle Performance Information
Performance gets smarter with a 4.2-inch LCD screen integrated into the instrument cluster, incorporating driver information like a digital G-force meter and lap time display.
Standard On: Limited
Keyless Access with Push-Button Start
The Keyless Access with Push-Button Start features touch-activated door unlock and one-touch start functions. It allows you to unlock, enter, and start the car without the key ever leaving your pocket.
Standard On: Limited
LED Headlights and Taillights
See, and be seen, with standard LED running lights and headlights, and available LED fog lights. The standard LED taillights and aluminum rear spoiler will leave an impression on every driver you pass.
LED Headlights and Taillights standard on: All models
LED Fog Lights standard on: Limited
Leather-Wrapped Steering Wheel
A small-diameter, leather-wrapped steering wheel helps connect the driver to the road, while integrated audio and Bluetooth® controls mean you can take command of the vehicle's technology without your hands ever leaving the wheel.
Standard On: All models
Sport Seating
Heavily bolstered sport seats with ideal sports car positioning hold you comfortably in place for a more direct connection to the vehicle.
Standard On: All models
High-Quality Interior Materials
Premium-quality materials throughout the interior create an environment that's as soft to the touch as it is easy on the eyes.
Standard On: All models