The 2022 Subaru Love Promise Community Commitment Award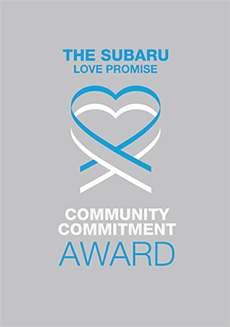 We've been nationally recognized for our dedication to our community and the Subaru Love Promise.
We're honored to receive the 2022 Subaru Love Promise Community Commitment Award. This award nationally recognizes Subaru retailers who are making the world a better place while demonstrating an outstanding commitment to supporting passions and causes in local communities. These efforts are focused in important areas such as the environment, community, health, education, and pets.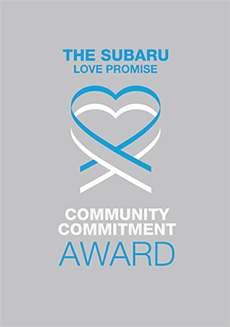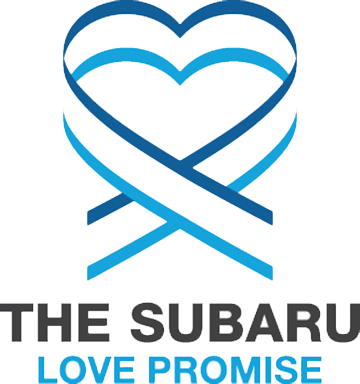 What is the Subaru Love Promise?
Subaru and our retailers believe in making the world a better place and the Subaru Love Promise is our vision of respecting all people. This is our commitment to show love and respect to our customers and to work to make a positive impact in the world.
How is Lou Fusz Subaru - St Louis dedicated locally to the Love Promise?
We support the Human Society of Missouri, Lou Fusz Youth Soccer teams, Junior Achievement and Dining Out for Life.
Human Society of Missouri
Love Promise Stories from Lou Fusz Subaru - St Louis
Subaru and Lou Fusz Subaru - St Louis believe in making a positive impact on the communities in which we live and work. We uphold that belief through our Love Promise Community Commitment. Every month, we select inspiring stories from customers and partners from around our area who strive to support our collective commitment and feature them here
Toys for Tots! - Landon B
Not just Lou Fusz Subaru, but ALL Lou Fusz locations participate in Toys for Tots every year! The Marine Toys for Tots Foundation is responsible for the day-to-day operations of Marine Toys for Tots. An IRS recognized 501(c)(3) not-for-profit charity, it serves as the authorized fundraising and support organization for the Toys for Tots Program. The Foundation provides the leadership, funding, and support needed for successful annual toy collection and distribution campaigns.
---
Light the Night! - John M
Every year Lou Fusz Subaru participates in Light the Night! The Leukemia & Lymphoma Society® (LLS) is a global leader in the fight against cancer. The LLS mission: Cure leukemia, lymphoma, Hodgkin's disease and myeloma, and improve the quality of life of patients and their families. LLS funds lifesaving blood cancer research around the world, provides free information and support services, and is the voice for all blood cancer patients seeking access to quality, affordable, coordinated care.
---
Providing Second Chances to Animals in Need - Shana C
The Humane Society of Missouri has had the great fortune to be the beneficiary of Lou Fusz Subaru's Share the Love program. Donations from Lou Fusz's two St. Louis retailers in St. Louis and St. Peters have participated in fundraising programs to benefit our shelters for close to a decade. Thousands of dollars have been raised to help fund adoptions, provide urgent medical care to animals in our shelter, and invest in behavioral programs that dramatically increase the chance of shelter pets finding lasting, loving homes. We are truly grateful for this partnership!
---
Pay it forward - John M
Lou Fusz Subaru wanted to do something for the community to show that not only is Lou Fusz and Subaru active in their communities, but that they are also more than a car company. We wanted to find a way to give back. After several ideas were thrown around, we come up with what we "coined" Lou Fusz Subaru Happy Hour. We had all heard about drive thru windows where a customer decides to pay for the car behind them. Everyone loves a free meal, especially when it isn't expected. So, we decided to pick a random drive thru, and pay for every customer's meal for an hour. We had a great time, and the customers were excited that they were getting a meal for free. The Manager of the establishment was very appreciative as well. When the hour was up, the owner actually gave us a free meal. Talk about paying it forward.... Also, we stopped by our local Fire Department and Police Department, and brought them both food as well. Everyone was appreciative, and it felt good to be able to do something positive for our community. We have decided this is going to be something we do on a continual basis, so keep your eyes peeled for the Lou Fusz "Happy Hour Mobile"!
---
55 Basset Hounds Rescued From Horrible Conditions - Shana C
In early October, The Humane Society of Missouri's Animal Cruelty Task Force (ACT) removed 55 Basset Hounds and Basset mixes from the residence of a suspected breeder in Franklin County, Missouri. The dogs, ranging in age from a few months to 10 years or more, were found in varying stages of malnutrition and filth--many housed in crates and sitting in their own feces and urine. The dogs were brought to the Humane Society of Missouri where they underwent treatment for a multitude of medical issues, as well as intense socialization for some who had never been handled by humans before. Thanks to our corporate partners, like Lou Fusz Subaru, HSMO was able to rehabilitate the dogs and make them available for adoption. Many of them have already found their forever homes, and many more will soon. Donations from Subaru's Make A Dog's Day campaign mean that many more animals in need will get the loving care they deserve, and eventually find their forever homes.
---
Subaru Shares the Warmth - Debbie K
On Monday, June 17, 2019 the Gateway Chapter of The Leukemia& Lymphoma Society, Lou Fusz Subaru - St. Louis and Lou Fusz Subaru St. Peter's had the pleasure of delivering160 blankets and 40 arts & craft kits to St. Louis Children's Hospital as part of the Subaru Loves To Care program. These comforting gifts were accompanied by personalized messages of hope written by the customers and staff of both Subaru locations. This incredible act of generosity was warmly received by the St. Louis Children's Hospital staff who were thrilled to distribute these gifts to their patients. Christy Merrell, a Child Life Specialist at Children's and enthusiastic Subaru Outback owner, thanked the Subaru team for a great purchase experience for herself AND her canine friend. Her salesman from Subaru even won over her dog with a Subaru dog toy! Christy says, "It's still my dog's favorite toy!" In tribute to the recent St. Louis Blues Stanley Cup win, Nathan Voorhees of Subaru held up the blanket boxes in tribute to the Stanley Cup! Such a fun delivery! LLS is proud to partner with Subaru to spread hope, love and warmth to those fighting cancer, across the country and right here in the St. Louis community. We look forward to hosting our Subaru friends at Light The Night in September and Hunt for a Cure in April!
---
Subaru Supports Leukemia & Lymphoma Society Events - Debbie K
Thank you to Lou Fusz Subaru – St. Louis for supporting The Leukemia & Lymphoma Society's (LLS) 2018 Light The Night and the 2019 Hunt for a Cure as part of the Subaru Share the Love event! As Lou Fusz Subaru - St. Louis' Hometown Charity, The Leukemia & Lymphoma Society received a donation of $14,268 which helped us to serve the more than 13,000 patients in the St. Louis area with financial support, education and support groups. Lou Fusz Subaru – St. Louis was present at both LLS events, interacting with guests, handing out giveaways and bringing light and hope to all attendees. Thank you Lou Fusz Subaru! We appreciate all that you do to support The Leukemia & Lymphoma Society!
---
More Good at Lou Fusz Subaru in Creve Coeur, MO! - Mary L
I've been on the road for over two years now in my mother's old 2008 Subaru Outback compiling stories of human kindness to create a book I plan to donate to hospital waiting rooms. I lost my mother to cancer five years ago and this mission is in her honor. She was an extremely positive person who radiated kindness and always told me, despite whatever tragedies we would inevitably face, that there would always be More Good out there if we looked. I've been finding it across the U.S. and arrived at my 34th state, hitting 30,000 miles this past week. I stay in homes of people, mostly strangers, who support my mission. It is how I budget since I could never afford to stay in hotels, and also how I find comfort by connecting to people in the communities where I stay. When I arrived at my 115th home in Creve Coeur last week my host knew I was in need of new tires and reached out to the local Subaru in her town. They graciously gifted me four new tires. I can't tell you how much this has meant to me as I am constantly budgeting the mission on kindness. I have no sponsor, simply sponsored by kindness which has kept me on the road all along. Very grateful for this kindness from Lou and the team here in Creve Coeur especially John Molloy who made it all come together. The simple acts of kindness I have received along the way has made this mission mean so much more to me on a personal level. The mission is one to spread more good, compile more good, and highlight it....and this week I received some myself! I can't thank this local dealership enough for their support.
---
Lou Fusz Subaru - St. Louis & LLS Deliver Blankets - Debbie K
The nurses at St. Louis Children's Hospital met Ed Federman, Jessica Lipe and Landon Bigogno from Lou Fusz Subaru – St. Louis and Debbie Kersting of The Leukemia & Lymphoma Society (LLS) in the hospital parking garage to help unload blankets and craft kits for the young cancer patients they serve. During the month of June, Subaru is partnering with LLS to bring blankets and craft kits to local cancer patients as part of the Subaru Loves to Care program, spreading love, hope, and warmth. The craft kits contain crayons, markers, washable glitter paint, washable glitter glue, modeling clay and construction paper to help the young patients keep their minds off of their treatment. The nurses will distribute the blankets and craft kits to their patients over the next few weeks. Thank you Lou Fusz Subaru for sharing the love! The Gateway Chapter of the LLS would also like to thank Lou Fusz – St. Louis for realizing the impact that they have on the community and for honoring LLS as their Hometown Charity! Thank you Lou Fusz Subaru!
---
LOU FUSZ SUBARU LOVES TO CARE - Ruth D
Lou Fusz Subaru, St.Louis and the LLS Gateway Chapter met on July 12th to deliver 80 blankets and 10 craft kits to St. Louis Children's Hospital. As soon as we arrived we could tell this was going to be a special delivery! Joe R., a dedicated LLS volunteer for over 10 years, was recognized and hospital staff surrounded him and took photos. Christy, a Music Therapist and recent proud Subaru owner, enthusiastically joined us exclaiming "I LOVE MY NEW SUBARU!" and shook hands with all the Subaru staff including Dave Arbogast, General Sales Mgr. We were given a tour of some favorite spots in the hospital by Whitney, from the St. Louis Children's Foundation and Megan, Child Life Supervisor. First stop was the Sibling Playroom! We gave out blankets to the siblings of patients who accompany their parents to the hospital while their siblings are being treated. The room was busy with 10 very active children. Marquise, a Subaru team member, went over to one little boy, picked him up, gave him a blanket, and was talking with him. We all were impressed with how Marquise was interacting with the child! Turns out they are cousins! It was just a coincidence Marquise was there that day. We toured the Ronald McDonald Room, Child Life Playroom, Teen Lounge, and the beautiful Olson Family Rooftop Garden. We were so welcomed and shown such gratitude by everyone. Gateway LLS was proud to partner with Lou Fusz Subaru St. Louis for a very special delivery. Subaru Loves to Care, Indeed!
---